If you don't store your dishwashing gloves well, you won't have the same positive user experience next time you use them.
This means how you store these gloves matters and we're here to show you the best ways!
7 Easy Ways to Store Your Dishwashing Gloves
1. Use glove racks
A glove rack may solve your storage issue. The added bonus is they help keep your gloves perfectly organized, clean, handy, and dry.
They cost around $5 and are available in a range of materials such as plastic, steel, and wood.
2. Hang the gloves under the sink
Another convenient storage option is under your kitchen sink.
Get a pair of command hooks or a clothes hanger with clips on both ends and place them in the under-sink compartment.
Attach your gloves with the clips well and leave them to dry after a dishwashing session.
Note: Make sure you hang your gloves with the finger-sides up so that there is no water left inside after you set them to dry.
3. Use binder clips and command hooks
With binder clips and command hooks, you can store your dishwashing gloves in almost any place you like.
Install a bunch of command hooks on a handy vertical surface in your kitchen and then get your gloves clipped with the binder clips and hang the clips with the command hooks.
4. Try s-hooks and towel hanger
Use s-hooks to hang your dishwashing gloves on your towel hanger. S-hooks are useful and easy to find.
Just set one end of the s-hook with the towel hanger and one end with the glove.
5. Stick clothespins to the cabinet door
Get a pair of clothespins glued on the inside surface of your cabinet door and attach your gloves with the clothespins.
Note: Your under-sink cabinet door would be the most ideal place for this and use wooden or plastic clothespins as they stick a lot better than clothespins made of metal.
6. Install hooks and grommets
If your pair didn't come with grommets, you may easily put them in yourself or get help from your DIY enthusiast neighbor.
There are many types of hooks on the market. If you don't want to deal with tools and the technical work, get sticky command hooks since they are super easy to install.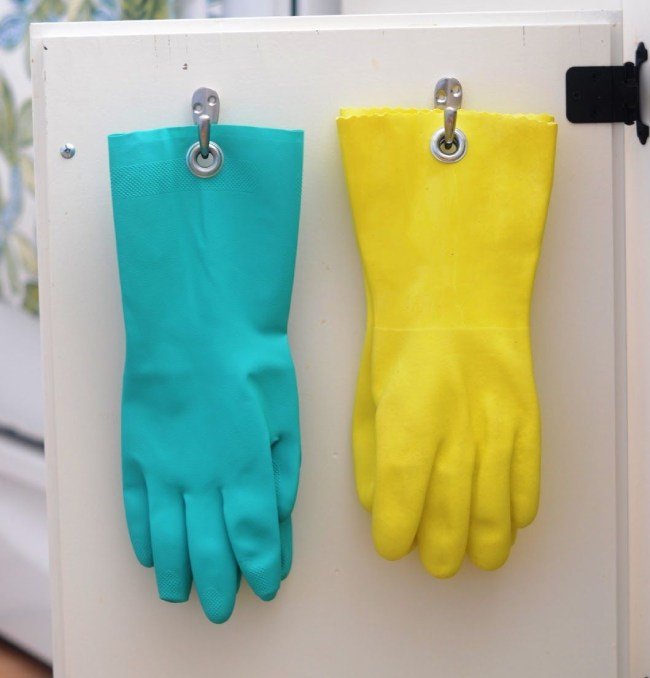 7. Use plastic bins
Your dishwashing gloves do not have a hanging hole? No problem. You can use a plastic bin in the under-sink cabinet to store your rubber gloves.
The plastic bin will keep your dishwashing gloves nicely organized though it will take up some space.
How to Protect Your Dishwashing Gloves During Storage?
Protect your gloves from heat
Most dishwashing gloves are made of rubber, and you don't want to keep them in the heat as you store them.
Your gloves may change into a melted mess if they are put in direct sunlight.
Keep the gloves away from knives
Keep your gloves away from the pointy and sharp kitchen instruments such as knives, scissors, and shears to avoid any wet surprises.
How long can you Keep Rubber Gloves?
All the rubber gloves in the market come with expiry dates. Their use and shelf life vary based on the materials they're made of.
Natural rubber gloves
Natural rubber gloves such as latex last around 3 years on the shelf. The nitrile gloves last up to 5 years if they're kept intact with no exposure to elements.
Vinyl gloves
Since Vinyl-made gloves are non-biodegradable and contain synthetic features, they last for longer. They are usable even after 5 years in their original wrapping.
Reusable rubber gloves
Reusable rubber gloves also last several years if they're unexposed to destructive elements, UV lights, and high heat.
FAQs
How do I make my dishwashing gloves last longer?
Ans: Thoroughly rinse off the outside of your rubber gloves after a dishwashing session, protect your gloves from excessive heat and sharp pointy objects.
How often should you change your dishwashing gloves?
Ans: Replace your gloves only when you get signs of degradation or the expiry date is passed. If you haven't used a pair of gloves for long, check the quality before you start using them again.
Can you put dishwashing gloves in the washing machine?
Ans: Yes but make sure to put them in the machine wrapped with towels, or garment bags. The drawback here is that when you clean your gloves in the washing machine, the rubber degrades and the dishwashing gloves easily fail.
Note: Disposable gloves should never be reused and put in the washing machine.